Post by King Richius on Aug 7, 2019 20:53:55 GMT -5
Prologue: What the hell is going on?
Everybody sure has a lot to say about Stay Gold. Can't really blame them as a lot of sh*t went down.

Problem is I think everybody is talking about the wrong sh*t.

The internet's panties are in a bunch over Needles, Daniel Knight, and the newly formed Anti-Needles League of White Hat Wearing Bona Fide Superheroes.

What they aren't saying is that most of the anti-Needles wrestlers are suffering from a severe case of pot meet kettle syndrome.

You've got the self-entitled princess with a famous name who never leaves home without a weapon or two, usually of the recently banned lethal bladed variety. By the way, the internet story is one hundred per cent true. And no, I will not be the one to check her ass for more weapons. That's the referee's job.

Then there is the Hollywood actor who returned and immediately demanded a Texas bull rope match. Two wrongs don't make a right Cam. And why the hell are you taking it out on Devilkiller when it is Needles and Daniel Knight who are the source of all the problems?

And last but far from least the janitor and military veteran whose life has been turned upside down by Needles and has retaliated with levels of violence previously unseen from him. I can't really blame Billy for whatever he does to Needles but it means he is sure to cross some lines I'm not comfortable with.

The upshot is that my presence as part of this group is purely out of a desire to not see anyone else hurt like Mesh was.

The enemy of my enemy is NOT my friend, particularly if their last name is Ahriman.

I've got a dad joke for you:
What's worse than a psycho bitch?
A psycho bitch with a sword.

Not very funny but you have to laugh so you don't cry. This is what the WFWF has come to. Sometimes I wonder if I'm in a wrestling company or a bad anime.

If I have to hear Anna rationalize one more time about how bringing a f***ing sword to a wrestling match is in any way a reasonable, sane thing to do I think my head will explode. I only hope she is close enough to suffer some collateral damage. Maybe a flying tooth will take her eye out.

Bottom line, don't consider me a part of any group out to bring back the revolution and save the WFWF from itself. That ship has sailed. And sunk. There were no survivors.

The only good thing to come out of the revolution was everyone seeing that I am human. I have my character flaws and despite my best intentions, I sometimes do the wrong thing.

Such as when I cashed in on David Brennan to claim the International Championship after he had been beaten down by somebody else. Technically no rules were broken but it wasn't exactly the way of the fighting champion I have since become. I've spent the past year and a half lamenting that David Brennan seemingly didn't want a proper match, one that I was willing to give. All he had to do was name the time and place.

Instead, and this is a real kick in the balls because I don't hear anybody talking about it at all, David f'n Brennan in all his skinheaded tattooed beer drinking f***ed up glory came down to the ring at Stay Gold and surprised me with a brutal assault.

You messed up Davey boy.

One: you left me alive and kicking. You of all people should know that once you start the job, you have to finish it.

Two: I know you're coming now. Maybe you forgot but I already have eyes in the back of my head in the form of my manager Daphne. I'll be ready for your next appearance. The outcome will be very different next time. The fighting champion is damn sure ready for a fight.

As for your short but sweet greeting, you're damn right you'll see me in hell!

Neither of us is an innocent. We've been on the highway to hell long before the WFWF finally decide to make its way there. You'll recognize me when you get to Hell because I'll be the one smiling and waving at you.

You could have done this like a civilized human being. You could have come down to the ring, said you wanted the match, and named the time and place. I would have accepted and shook your hand on it, not that I think you're the handshaking type. Maybe if I spit on my hand first, as disgusting as that old time habit is. Disgusting seems to be your thing.

But you don't want to be civilized. You want to do this like animals.

Fine.

Let's get dirty, David. Hell, let's get bloody if that's how you want it. Just name the time and place. I'll be there.

Let's dance mother f***er.

.
.
.

Oh yeah, there was one other little thing that happened that nobody is talking about.

Brennan wasn't the only retired wrestler who made an unexpected appearance at Stay Gold with their sites set squarely on me.

There's the matter of the longest reigning International Champion record I'm about to break. Apparently the ego of the soon to be former record holder couldn't take the bruising so the "legendary" Thunder showed up via satellite to talk down to me.

The only thing Thunder said that actually mattered: he challenged me to a match in Hell so he could protect his record.

He might as well have walked into a room, unzipped his pants, and dropped his dick on the table. Hate to break it to you Thunder but if I did that, you'd find out that your title reign isn't the only thing of yours that is shorter than mine.

I was more than happy to accept his challenge. He'll say it was my ego. I say its living up to the nickname "fighting champion". I crave competition against the best in the world… or in this case the best available to fill my otherwise empty dance card. Thunder's no Drakz or Zmey, thats for damn sure but he'll have to do.

I've done my homework and I'm not afraid of the "legend". I actually pity him.

Apparently the record is the single greatest achievement of his life and I'm about to take it away from him. Bring some tissues because Thunder's gonna' need 'em after I put him to sleep.

We're going to meet in Hell and when we do I'll show him that thunder is just a harmless loud noise that can't hurt a fly.

It's the lightning you have to be afraid of.

I am the lightning to Thunder's thunder.

In Hell, I will strike Thunder down and leave with my title and his record.

That's a threat.
A promise.
A guarantee.
A spoiler.
---
The WFWF Goes To Hell RPThunder and Lightning
featuring Frank Lynn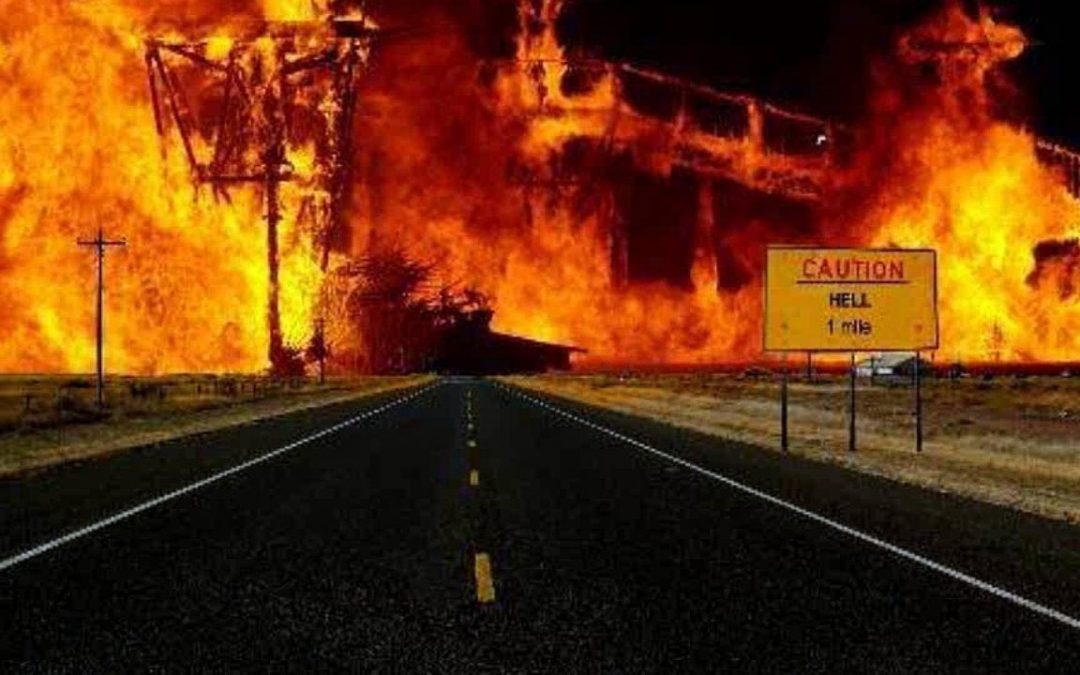 "I'm on the highway to hell
And I'm going down
All the way"
- AC/DCFramingham, MA : August 6, 2019
Dude, where's my car?
I'm two weeks past my 29th birthday and I think the face looking back at me from the mirror looks much older. No doubt the result of wear and tear from more than a decade in various forms of the fight game, the last three in the WFWF having produced the most dramatic changes.

Bags under my eyes.

I have freakin' bags under my eyes!

I know they're partially due to the first year of parenthood, full of interrupted if not completely sleepless nights helping take care of Laura. I also know these bags were forming long before Laura came into our world.

Same with some of the new wrinkles around my eyes and mouth, part of the overall "leathering" of my face. Another five years and I can work as a stunt double for Danny Trejo.

This is the unspoken price wrestlers pay for our chosen line of work. The accelerated decline of our bodies due to the stresses of dealing with all the Lila Sleaters, Trace Demons, Ante Whitners, David Brennans, and Thunders of the world. It takes a toll on you in both mind and body.

I can't stop staring at the face in the mirror. This is what I should look like in ten years, not what I should look like today.

It's a good thing Sarah didn't marry me for my dashing good looks. I can barely go for ruggedly handsome at this point.

Enough. It can't be as bad as I'm making it out. I splash some water on my face, the sudden wet cold sensation snapping me out of my funk.

I'm overreacting to the returns of Thunder and David Brennan, two veterans who want a piece of my ass for very different reasons but with the same end result. I've got to fight for my title, my career, perhaps even my life if Brennan goes full on batsh*t crazy in his quest for revenge.

I've got a busy day ahead of me because there is simply no way I will lose the International Championship to Thunder nor will I fall victim to another surprise attack from Brennan. This is no time to stare into the mirror feeling sorry for myself.

I'm a champion. Act like one.

Another splash of water on my face refreshes me before I head down the hall towards the kitchen for some of the breakfast Sarah is cooking - sausage and eggs from the smell of it.

I stop to glance in Laura's room.

What the f***?

There's my little angel in her crib with Doctor Claw and the International Championship belt laying between the two of them.

I have to control myself as I rush in to gently pry my belt from Laura's tiny hands and Doctor Claws' claws. I somehow manage to keep my calm, retrieve the belt, and replace it with one of Laura's stuffed animals, a pink elephant. All done without disturbing either sleeping beauty.

I'm not pleased. There is baby drool and cat hair all over the belt. It's a disgusting mess.

Are those bite marks on the leather? Son of a bitch!

With a renewed sense of urgency spurred on by my OCD need to clean the belt rather than my stomach grumbling hunger for a hearty breakfast, I make my way into the kitchen, grab the roll of paper towels and some eco friendly cleaner, sit at the kitchen table and get to removing all the baby and cat detritus from my belt. It's not easy as it has more nooks and crannies than an english muffin.
If you cleaned the house the same way you're cleaning that title we could eat off the floors.Is eating off the floors something you'd like? If so, I'll hire a maid to make the entire house spic and span.
I say that with a bit more bite to it than I intended but I have a sneaking suspicion I know exactly how my belt ended up in bed with Laura and Doctor Claw. I am not amused.
Care to tell me why?Sure. You've been obsessing over the title, the record, Thunder, Brennan, and everything WFWF a bit too much lately. Call it my own personal "why so serious?" moment.
Best of intentions, worst of results. I'm still not amused.
You could have just asked.I'm sure you would have come up with a perfectly viable reason for why your next match is the most important match of your career. Just like the ladder match at SuperBrawl was the most important match of your career. And the gauntlet for a title shot was the most important. And whatever match you had before that was the most important.
I'm fascinated by how she can lecture me without missing a beat at the stove, making two picture perfect plates of scrambled eggs and sausage patties.
It's been like this ever since we first met and honestly its getting old. Every match can't be the most important of your career.

I can only take so much serious Frank before I need some time with fun Frank.
She takes a break from her monologuing to place the plates of food on the table and then massage my shoulders while I continue to clean the belt. Who knew just how quickly the mixture of dried baby spittle and cat fur turns into glue that defies eco friendly cleaning substances? I wonder if we have any sulfuric acid in the house.
Whenever you're preparing for a match you forget how to have fun.So you prank me by giving the International Championship belt to the destructive duo? Sorry, I'm not laughing
Sarah frowns. Obviously this is not the reaction she was shooting for. There is a long silence as the guilt wells up inside both of us, her for a prank gone wrong and me for overreacting.

Her eyes beg me for forgiveness. I can't stay mad at her. She did it because she cares.
Okay, maybe you do have a point. I do take every match seriously. I have to stay on top. But this match really is that damn important… both to me and for the legacy of the title itself.
That gets an eyebrow raising look from Sarah, one that says she's heard it before but go ahead and give it one more try. Maybe she'll buy it this time.
It's true. After I passed one year as champ and people started talking about the possibility of me breaking the record I did a little research on the current record and record holder, the great and legendary Thunder.
I still can't say "legendary" and "Thunder" in the same sentence without the obvious sarcasm dripping from my voice. I have zero respect for hypocrites.

Instead of rambling on with a long winded story of what I found and why it changed everything, I grab Sarah's phone, open the browser, and enter a URL I have committed to memory. Once the page loads I hand the phone to Sarah.
Go ahead. Read it. You'll see exactly why its so important that I beat Thunder and break his record.
She reads while I alternate between bites of breakfast and cleaning the belt. It's almost restored to its proper shiny glory, as it should be for when I bring it to Hell for the historic night.

Sad f***ing truth is I'll break the record well before the day of the show but nobody is ever going to recognize my record as legitimate until I beat Thunder, all thanks to his extremely biased and not very accurate speech at Stay Gold. If he hadn't shown up I could have walked into Hell as the new record holder, had a nice celebration, and gone back to waiting for my next challenger. Thanks to Thunder, I have to kick a legends ass in front of his adoring fans before anyone will point at me and say "There goes the greatest International Champion, the lethal weapon Frank Lynn."

Ask and ye shall receive. Thunder asked for it. I'm going to give it to him.

At some point I got up and started pacing around the kitchen impatiently waiting for Sarah to react. Finally, I got a reaction. And it was exactly what I wanted. She gently places the phone on the table and looks at me with a decidedly less jovial look on her face than a few minutes ago.
Is this for real? If that crap happened in Legacy Abe would have somebody's head!
Ah yes, join me in my righteous indignation my beautiful and understanding wife. This is why I love you. You get "it".
Exactly. The legacy of the International Championship is…
I stop speaking dead in my tracks, all thoughts of Thunder, the International Championship, and the record quickly forgotten as I look out the window into the back yard. Something is very wrong.

WHAT THE F***?!?!?
WHAT THE F***?!?!?
CRASH!

The sheer volume and intensity of my exclamation causes Sarah to drop a plate to the floor where it shatters.

WAAAAAAAAAAHHHHHH!

The sound of the breaking dish wakes Laura who responds with her usual louder than you'd think possible for such a tiny person cry for immediate attention.

Sarah is torn as I stand there at the back door turning a deep shade of red as my rage builds. Smoke is probably coming out fo my ears too. If not, it should. I'm about to forget two years of anger management and explode like an erupting volcano.

MEEEEEEEOOOOOOOWWWWWWWW

Doctor Claw briefly appears as a fast moving ball of orange and white fur doing his best to escape the sudden onslaught of loud noises.

Sarah is torn as to what to do, looking me as if to say "Do I check on Laura or not?" I make the decision for her.
Call 9-1-1! Get the cops here right f***ing now!
To her credit, Sarah immediately grabs her phone and starts tapping in numbers while looking at me quizzically. She hasn't looked outside yet. I can't stop looking outside, both mesmerized and infuriated by what I'm seeing, or more accurately what I'm not seeing.

Somebody made a huge mistake and I will make them pay for it.
What is going on? What do I tell the operator?
I turn to her and in a voice that is more a growl than any normal form of human speech I tell her.
The car is gone! The Impala was stolen! F***!WHAT THE F***?!?!
Sarah backs away from me knowing this is not the time to comfort me. She is well aware how I came to own the '67 Impala and why it means so much to me.

I'm not really a car guy. As long as it gets me from point A to point B I'm happy with just about any four wheeled vehicle.

But the Impala is special.

Years ago, Paulie bought it as a junker and restored it to factory fresh condition to add to his collection. I inherited his collection after he was killed. I sold off all the other cars but kept the Impala because I wanted something to remember Paulie by and the Impala is a perfect match to the car in Supernatural, one of my favorite TV shows.

It was meant to be, me and the Impala. It means more to me than the International Championship. If I lose the title I can always win it back. If I lose the Impala there is no replacing it. It's one of a kind in my eyes and my heart.

So yeah, whoever took my car just made the biggest mistake of their God damn life.

Sarah has the good sense to stay out of my way while I rage, calling the cops while I storm into the back yard to investigate, all the while shouting bad words and making threats towards whoever stole my f***ing car!
* * * * *
Frank, either settle down or I'll have one of the men escort you somewhere else. You're getting in our way.
Sheriff Phil Lynott is doing his best to calm me down. It's a good thing we're friends because I can tell I'm testing his patience. I don't think he gets how much the Impala means to me.

For his sake and for any hope of recovering the car, I try to relax and work with him. It's a moment like this that I could use a set of anger management tennis balls.

I've already been chastised for stomping around a crime scene leaving so many boot prints that I'm now the primary suspect.

Lucky for me the cops didn't arrive until after I moved the car cover around. It had been laying in a discarded heap against the barn but I just had to lift it up and look underneath it as if the car thief was hiding there. In my incoherent rage it made perfect sense that the culprit took the car away, then came back and hid right in the middle of the crime scene just so he could watch and laugh at me. That's what all the criminals do on the TV shows, right?

Yes, I'm an idiot when I'm angry.

Phil has managed to calm me down enough that my idiot tendencies are gone.
I can't make any promises but we'll do our best to get your car back. Best case scenario, a couple of drunk kids took the coolest car in the neighborhood for a joyride and we'll find it abandoned where ever they ran out of gas.And worst case scenario?It's wrapped around a tree completely totaled.
Totaled?! Please no. It takes a lot of effort not to grab Phil and make him promise the car isn't totaled, as if that is something he has any control over.

Yes, I'm a five year old idiot when I'm angry.
I hope not. I don't care if there are a few scratches or dents. I just want the car back. I can afford to fix any damage.Sorry Frank, I won't sugarcoat things for you. Better to tell you the truth so you can be mentally prepared for every possibility. Like it's possible a collector hired a professional car thief to steal your car because they don't care how they get their very own Supernatural car in their collection. If that's what happened, I'm sorry but you've seen the last of the Impala.
I can't stop myself. I throw a vicious haymaker into the wall of the barn while screaming "F*** ME!" It doesn't hurt my hand now but I'm sure I'll feel it later and regret it. The barn wall doesn't feel a thing, not now or later.
STOP IT FRANK! You have to calm down. This is out of your hands. I'm sorry your car is gone. You have to accept that it is very likely you're not getting it back and try to move on.It's not that easy Phil. The Impala is more than a car. If I ever get my hands on who did this…
Phil cut me off, grabbing my shoulders and forcing me to look him in the eyes. He adds some serious bass to his voice to let me know he isn't kidding around.
…you will call me and do nothing! This isn't the WFWF where you make your own rules. You can't go vigilante trying to get justice on your own. This is the real world. You do that and I'll have to slap the cuffs on you while reading you your rights.You'd do that? Arrest me? I'm the victim, not the criminal!For your own good I damn sure would.
And that is the reality check that truly calms me down. One of my best friends would throw me in jail if I continue to act like an idiot. I better get over it because Phil isn't one to push too far. If he says it, then he'll do it.
Look, you have every right to be angry but you can't let it make you do something stupid. Why don't you hit the gym and work it off until you're too damn exhausted to move?You just want me out of your hair.That too but I care about you. Be smart. Let us do our jobs and get on with your life. It's just a car.
It's so damn frustrating that nobody truly understands the Impala is so much more than a car to me.

I want to take a swing at Phil but don't. That would be very bad.

I don't.

Score one for common sense and anger management.
It's more than a car to me… but I get your point. It's not like somebody broke into the house and kidnapped Laura. I'll get out of your way now.Thank you. We'll do everything we can to find your car. I'll personally keep you updated on any progress.
I take Phil's advice and head into the gym, not even changing out of my street clothes before starting an intense and physical workout that lasts for several hours.

* * * * *

THUMP

A shin kick rocks the heavy bag despite Daphne doing her best to hold it steady.

THUMP

Another kick that hits hard enough to make Daphne take a step back.

THUMP

KERRRASHHH

One last kick that hits even harder. The heavy bag breaks free from the chain holding it to the rafter and falls to the ground on top of a very surprised Daphne.

Time stops as the moment triggers a minor epiphany.

Right now the gym is empty except for me and Daphne. The bag most likely broke free because of a loose bolt and fell pretty much straight down to the floor on top of Daphne, who isn't hurt at all, just frustrated that she is stuck in this embarrassing position.

In ten years I bet people will tell a much different story of this afternoon, the day a gym full of dozens of people saw a Frank Lynn who was so pissed over his car being stolen that he kicked the heavy bag so hard the chain snapped in two and the bag went flying twenty feet through the air before crashing down on Daphne while riding an exercise bike, breaking every bone in her body and smashing the bike to pieces.

That's how mere mortals become myths and legends. Time puts rose colored glasses on our eyes. The ordinary becomes extraordinary. The truth becomes a good story.

Which brings me to Thunder.

Time has been very kind to him.

I have to take off the rose colored glasses off everybody's eyes and show them the true Thunder.
Frank! A little help?Oops, sorry. Got lost in my thoughts.Less thinking, more lifting por favor.
Seconds later Daphne is out from under the heavy bag brushing dirt off herself.
Gracias. Took your damn time.De nada. Sorry.I've never seen you so pissed off. And frustrated. You want to kill the man who stole your car but you can't.
I give the heavy bag now lying on the ground several hard kicks, seeing a generic car thief in its place who begs me for mercy after each impact of my foot to his ribs.
This is an opportunity Frank. Let's play a game.I'm not in the mood for games.You'll like this game. It's called "Pretend Thunder stole your car".
That's a stretch. Someone like Trace Demon might steal a car to play mind games with an opponent but that would be one hell of an achievement for someone stuck in a coma for the past year.

I doubt Thunder plays with his food like Trace did. He doesn't strike me being that smart.
But he didn't. He may be a dumbass but he's not a criminal.Do we know that? All I know about Thunder is what you showed me… and that was enough to make me doubt his character.True. He's a skid mark on the tightie whities of the International Championship.Si. He is. So who's to say he wouldn't stoop to stealing your car to f*** with your head and better his chances of winning in Hell?It's a possibility. A remote possibility but still…So run with it. Repeat after me: Thunder stole your car What are you going to do about it?
Thunder stole my car?
Thunder stole my car.
Thunder stole my car!
THUNDER STOLE MY CAR!

It's not difficult to play Daphne's game after all.
That son of a bitch! I'm going to rip his head off and sh*t down his neck hole.
That felt surprisingly good. I'm already upset with Thunder. Daphne's game is putting me over the top. I really do want to rip his head off, although I might take a pass on publicly taking a sh*t in or on any part of him.
Yes! Now you're talking!We have to be careful with your game. It could lead to me saying or doing things that might not go over well with the fans. I could be the bad guy in Hell.Good guy? Bad guy? Who cares? Be the winner!
Daphne is showing just how much of her own style she sacrifices to be my manager. She is much more of the "whatever it takes to win" wrestler than me. Fan support means next to nothing to her.

She's definitely one of the good guys, but with a much much sharper edge than I have. Perhaps I could use a little sharpening as part of my prep for the legendary Thunder.

This is why I keep her around.
And rewrite history if necessary to make myself the hero afterwards?If it worked for Thunder, then why not for you too?Fine, in for a penny in for a pound. I'm going to rip Thunder apart verbally before the match and then rip him apart physically in the match. The legend of Thunder ends in Hell.
Daphne gets that evil smile on her face that always sends chills down my spine and makes me grateful she is on my side.
Ooh, nice line. Use it in your promo.
We get back to working out as my thoughts finally move from the stolen car to my upcoming match. I can't do anything about the car. I for damn sure can do a lot about Thunder.

Every once in a while though, Daphne's game sends me on a tangent.

What if someone from the WFWF IS responsible for the Impala going missing? There are some wrestlers I wouldn't put it past.

The thought makes me smile.

If it is another WFWF wrestler then I don't have to worry about Sheriff Phil Lynott or any other law enforcement official coming after me. In the WFWF its okay to get justice and vengeance on your own. Hell, its the basis for half the damn feuds.

If it is a WFWF wrestler then I pity them. I will make their life a living hell before I slowly and painfully end it. There's not a damn thing they could do to stop me.

Please let it be the work of a WFWF wrestler.
---
Hell, MI : August, 2019
519 and 1Are you ready for some simple math?

519 days.
12,456 hours.
747,360 minutes.
44,841,600 seconds.

Sorry to start off so cliché but some times that is the best way to make a point.

What is my point?

519 days is a damn long time.

It just happens to be how long Thunder held the International Championship. It's the foundation of his "legendary" status because nobody has been able to match it.

Not Trace Demon.

Not David Brennan, although he gave it a damn good try before I came along.

You could say Drakz has surpassed 519 days as he is officially Mr. 851 but his single title reign record is only 504 days so maybe he hasn't surpassed Thunder's record. Its all semantics. In any case, wrong title so get the f*** out of my argument. I'll deal with Mr. 504/851 later, if he can survive the Dragon.

Back to my point: Thunder is a legend in the WFWF and most of that status rests on the fact that he is the longest reigning International Champion in WFWF history.

Pretty damn impressive, right?

So you have been told over and over and over ad nauseam.

Too bad it's a steaming pile of dog sh*t.

History was being rewritten right in front of our eyes and nobody noticed.

Until now.

I noticed.

I have some cold hard facts to ruin Thunder's day.

What they don't tell you about Thunder's historic reign is that he defended the International Championship ONCE.

That's not a typo.

ONE successful title defense in 519 days!

Thunder won the title.

377 days later he defended it for the FIRST time.

Phileas Fogg could circumnavigate the globe four and half times in 377 days. All Thunder could manage was ONE lone solitary title defense.

142 days after his first defense he defended the International Championship again… and LOST!

Certainly one of the most impressive, historic, legendary title reigns in the history of professional wrestling.

Who the hell were you sucking off to get that kind of favorable booking?

I defended the title against more contenders in one night at SuperBrawl X than you did in your entire 519 day record setting reign!

These are facts. You can look them up. That's what Google is for.

Thunder is a fraud. His record is made of the same paper as Dex's World Heavyweight Championship run. Instead of proclaiming to the heavens above about how great he is for being champion for 519 days we should all be disgusted by how little he did as champion.

Thunder had the unmitigated gall to show up at Stay Gold to try and belittle me. He said I have to defend my title and earn the record against him. If I didn't, I would be a joke, a coward, a false champion.

Don't throw so many stones at me Thunder because almost all of them are coming right back at you.

I take pride in this title and do my damndest to elevate it to a status somewhere near that of the World Heavyweight Championship. I'm open about my willingness to defend it against any and all qualified contenders. I have done so numerous times already. I didn't spend the last five hundred days running away and hiding from challengers, which is apparently what you did for all but one day of your record setting reign.

When I break the record it will actually mean something once again. Let history tell the truth for once. I'll have nothing to hide, unlike you Mr. 1 in 519.

If I was you I would be embarrassed any time the record was mentioned in my presence, nodding my head in false gratitude and slinking away as fast as I could before I got asked to tell some stories of my numerous epic title defenses.

You shouldn't have come out of retirement to protect your record. All you did was force me to show the world how fraudulent your claim to greatness actually is. Its not fair to say you did nothing as champ but you damn sure came as close as anybody possibly could.

It took you 519 days to do what most can get done in 60 days.
Win title, defend title, lose title.
How is that legendary?
How is that historic?
How is that in any way comparable to what I've done in the past 18 months?

It's not.

The facts have gotten lost in the myth you've become since retiring.

At Hell I will continue to rip away the veneer of your legendary status. I will strip away everything that we have been told about you until all that remains is a broken down old man swimming in the tears of his broken dreams.

Hell is truly going to be hell for you. I'm going to take away every thing that made you special, from your record to your dignity. I'm going to leave a broken man who should have known better than to challenge a real fighting champion.

Perhaps worst of all, you will leave Hell knowing that this was all your fault.

You could have stayed retired and there would have been no need for me to do any of this. I would have stayed quiet about the rather questionable nature of your soon to be second longest title reign record. I would have let you continue in your blissful retirement, the world none the wiser to the pile of crap you actually are.

It was you who showed up at Stay Gold with your bruised ego running your mouth, questioning my worth as International Champion and future record holder.

You questioned the very fiber of my being by comparing me to yourself as if you are the bar by which all International Champions should be measured.

Not even Trace Demon or Drakz have managed to insult me as deeply as you did.

You pissed me off.

You're full of sh*t, just like your record.

At Hell I'm taking it all away from you.

And it's all your fault.

You asked for this, nay, you demanded it.

I'm going to show you what a lethal weapon is.
I'm going to show you what a fighting champion is.
I'm going to show you what an International Champion is.

The record is mine.

Welcome to Hell. This is where the legend of Thunder dies.