Post by mrrocky619 on May 29, 2012 23:17:56 GMT -5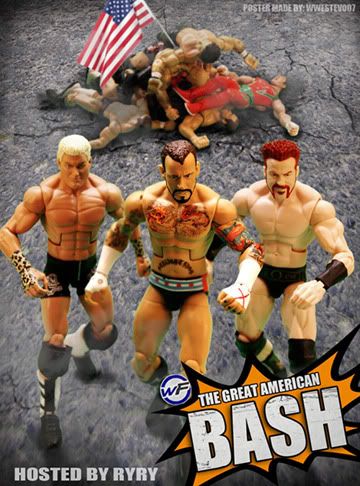 (poster made by wwestevo07)
The Great American Bash II StipulationsWorld Heavyweight Championship
wwestevo07 vs. MyyQee vs. PINKIE PIE
stips:
-messiah
and
-
(you don't need to include the 619 unless you want to)
Tag Team Championship
LKAngus vs. **Wasmi
Stip:
-
(one figure does the move at 0:19, and then another figure gives the victim a codebreaker on his way down)
High Flyers Championship
Loserkings007 vs. *wwextreme25 vs. *K³V
Stip:
- Springboard SSP DDT
European Championship
*"Living Legend" Scottanized vs. Angus
Stip:
-Bus Driver
Hardcore Championship Open Challenge
*[A2O]: PINKIE PIE vs. anyone who decides to enter
stip:
create a canadian destroyer onto a pile of figures from a raised surface (make it unrealistic like an allstars move if you please)
Entrance King Championship
*Dimburuk vs. *wwextreme25
Stip: Create Melinas entrance (you do not need a melina figure)
OMG ZACKARY IS BACK
*Zack vs. Cooperman vs. mattelfan
Stip:
-super kneecolepsy
Ry Bread Vs. Flava Fav
High Chief RyRy vs. Fave vs. DANiel
Stip:
- (just the first move)
A FIGHT FOR A SOUL
*Josh vs. God
Stip:
- ( 0:20)
Loser Leaves WF match
THE EH TWO OHHH, PINKY PIE vs. Bcwrestling vs. KWA
stip: double foot stomp
Dark MatchesHF contenders match
Mister Favian vs. Jack vs. beast883 vs. Ciaren vs. Cheshire vs.
adamlofthousetv
vs. *bcwrestling vs.
KWAanimations
vs. *the XBLkidvs vs. RYRY
Stip:
- (the second move)
Euro Contenders Match
* Dimburuk Vs. God of Zaffirianism vs.
Cooperman
vs. mattelfan vs. DANiel vs. *fireballx90 vs. *MyyQee vs. OWEinc vs.
Josh
vs. *Buzzer
Stip:
-
Tag Team Contenders match
11stopmotion and *bcwrestling vs. *Crimson Fighters vs. "scott and *bellend boy.
Stip:
- (just the kick at 0:55) follow it up with a stunner from someone else.
Entrance King Contenders match

RyRy vs. fireballx90 vs.
adamlofthousetv
vs. *WardyzProductions
Stip:
-PAUL
ING BIRCHIL ENTRANCE. (pirate entrance)
Beginners Title open challenge
Anyone that chooses to enter vs. anyone who chooses to enter.
Stip: Bonsai Drop
- If anyone has any questions about any of the stips just PM me or ask in here.
-for all the stips that are moves from the allstars game, make them exactly how you see them.
- Like in every PPV, someone won't turn in an animation. If you would like to be a replacement for anyone just send me the animation of that stip (I won't use your animation unless someone doesn't turn in). Also note if you didn't turn in last PPV you can make a replacement.
- Anyone who wishes to drop out has 5 days to do so (till June 4). Any animations not turned in - in this PPV, will result in a banning from the next PPV.
- I will put a * next to the names of everyone that has turned in
-If i made any mistakes please tell me and i will correct them right away.
DUE DATE: JUNE 30thDARK MATCHES DUE: JUNE 29th
SEND ALL FINISHED ANIMATIONS TO ME WITH THE SUBJECT "WF PPV" AND THEN THE MATCH YOU'RE IN
Have fun