Post by ozz on Aug 1, 2011 23:18:06 GMT -5
Hello all - this will be long as I journey back a bit in my collecting, hopefully you enjoy some old feelings and stories from back in the day, and some old pics are at the bottom.
First off, some of you may "know me" because of Big Brothers Toy Shop/Wrestling Figure Museum. I am "mansonozz" who was responsible for scans of most of the rare LJNs (along with some Hasbros and the original scans of Rock N Wrestling erasers). The owner and I had traded countless times, way before that site was even thought of. I'd love to run into him again, I hope he's a member of this site and sees this. Anyway, after likely helping each other delve into a psychotic state of collecting, the site eventually spawned and got A LOT of "unknown" information out there for everybody.
Back then, in the mid/late 90s, as far as we could tell, both the owner of spamM and myself were responsible for helping discover, or at least help popularize on the 'net, many of the variations available in the LJN line. I remember vividly buying up all sorts of piles of figures just to go through them and discover something new. The variations on the tag teams when single-packaged, the Kirchners, Mean Gene, Valentine, Piper, etc. They're all general knowledge now, but man, if any of you were active in the game back then you'll know what I'm talking about. We felt like we had struck gold even when we found something as small as Captain Lou w/o red graphics on his shirt because the info just wasn't available anywhere. I remember arguing endlessly with other collectors over the validity of the plain white Martel & Santana. Now it's common knowledge, but back then you'd have thought I dug up the literal Holy Grail. If only I'd come across Panther Piper...
The Rock N Wrestlin erasers were probably the most exciting line for me to collect though I didn't end up with the full set, probably because they were being "discovered" in my heyday. I remember having an Iron Sheik and arms-down Hogan from the actual store runs, and being about 5-6 at that time I'm amazed they survived. In the mid 90s, no one knew what the hell these even were, and it was a while before any information was had as to what they were. I can't even remember if it was something I'd pieced together on my own, or if any of my collector buddies added their pieces to the puzzle and we got it figured out together. The sad part is, from what I see now, there's no new information regarding Winston Toys as a company, run numbers, sales locations, etc.
To give you an idea of what it was like back then, even when we ended up getting the Rock N Wrestlin erasers' existence relatively well-known around the 'net, Snuka hadn't yet been "found" yet! Now of course he's one of the easy-to-find snoozers (though the arms-up version was easily one of my favorite figures ever!). Sadly I stopped collecting before Piper, JYD, and Richter surfaced. Actually, scratch that, I remember the first "known" Piper popping up on ebay and me missing the auction. If any of you are familiar w/gartwo's site, you know he speaks of winning an auction lot of numerous figures for chump change - that was the same one. I kinda still kick myself, as Piper would've easily been my new favorite. I watched the show during its initial run and Piper was (and still is, I've got the DVDs to prove it haha) the most hilarious character.
I'm no longer a collector but I still get a kick out of watching current LJN & Winston Toys eraser trends online. I found my way here somehow recently and got lost in following some of the newly discovered gems of knowledge regarding the old LJN sets. The Sgt. Slaughter mold that someone bought on ebay? Wow -talk about an amazing piece! With all of that I just couldn't help but join and share some enjoyment.
I dug up some old photos taken with a 35mm sometime in the late 90s, showing most of my collection. Obviously hard to see but somewhere in there is the full collection of C9+/complete LJNs and LJN bendies including all variants (excluding protos/unreleased body molds, etc.) with a neato MOC red chain JYD, full set of mint/complete Hasbros with MIB mail-a-ways, Hasbro minis, MIB 16" Hulk and Piper, the talking 12" Hulk/Warrior Hasbros (both had working talk boxes at the time, too!), full set of Galoobs, and a bunch of ToyBiz which were the new thing at the time.
I had a lot more but they were always coming and going as I basically used the hobby to support myself throughout high school instead of getting a sucky job. I remember coming home to see what figures or money order (there was no Paypal, everything was on the honor system!) were waiting for me and then walking (I was only 14-15 here) to the post office to send off my figures that I'd either sold or traded.
I believe I was born with Hulk Hogan and Iron Sheik LJNs in my hands, and was probably watching wrestling in the nursery. I grew up as far as I can possibly remember with them, and then Hasbros, and stopped there. I had a ton but didn't officially/actively collect and hunt them down online until the Jakks series had come into play. What was that, 1995-1996? Aside from those I retro-collected Galoobs because of their quality, and had everything + variants; only thing I was missing was UK Luger's chain and Big Josh's ax handle.
I remember as a kid drooling over the black card LJN order forms, and wishing $16.99 was a more acceptable price for my parents/grandma. Sadly I also remember having a filled-out order form for when I was finally granted a few from my wish list, but it was never sent in. I can't remember who was to be ordered, but I believe those plans got killed because a run to TRU netted me a few, one of which I believe was Honky Tonk Man. My older cousin got One Man Gang or Bam Bam from that same trip, whomever of which I ended up with later on as he grew out of it.
I could go on and on but I figure this is longer than hell already. Hopefully someone gets a kick out reading it, it was fun writing it up.
Here's some old pics. Dig the CRT monitor, that was the style! Any of you younger guys, just imagine what the internet and figure availability was back in these days and feel lucky - LOL
Nothing in the pics is really unusual by today's standards and again I apologize for the quality. But if anyone has any questions about anything in there, feel free to ask. In the first pic, on the top corner of the shelf, a sharp eye can spot my Bret Hart sunglasses purchased from their original run. Second pic has some of the magazine LJN order forms as well, right on the wall. Fun times!
black card and other scarce LJNs (all 3 Kirchners, Sarge, etc.), Hasbro set, ToyBiz ring w/LJN thumb wrestlers on top, MIB 16" LJN Hulk and Piper, and more misc. stuff packed away on top: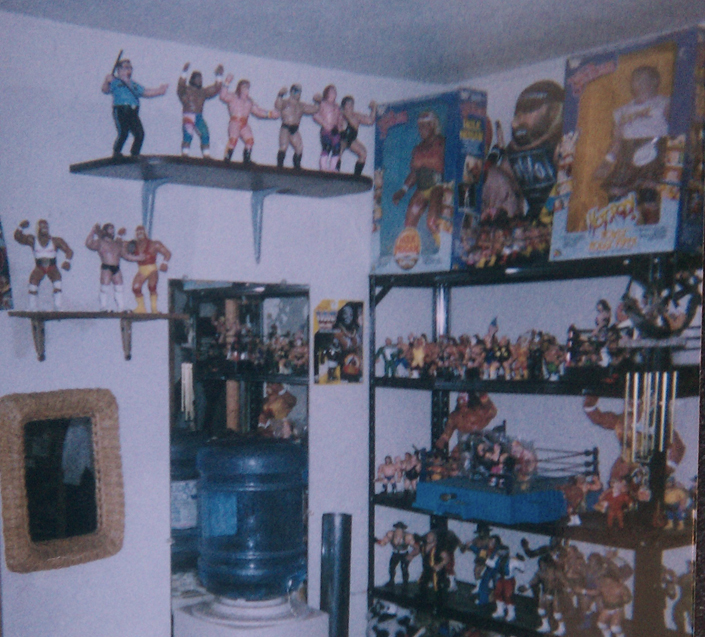 LJN tag teams, bendies, scarce variants and managers (right), MOC red chain JYD on the left wall, loose/MOC Winston Toys erasers: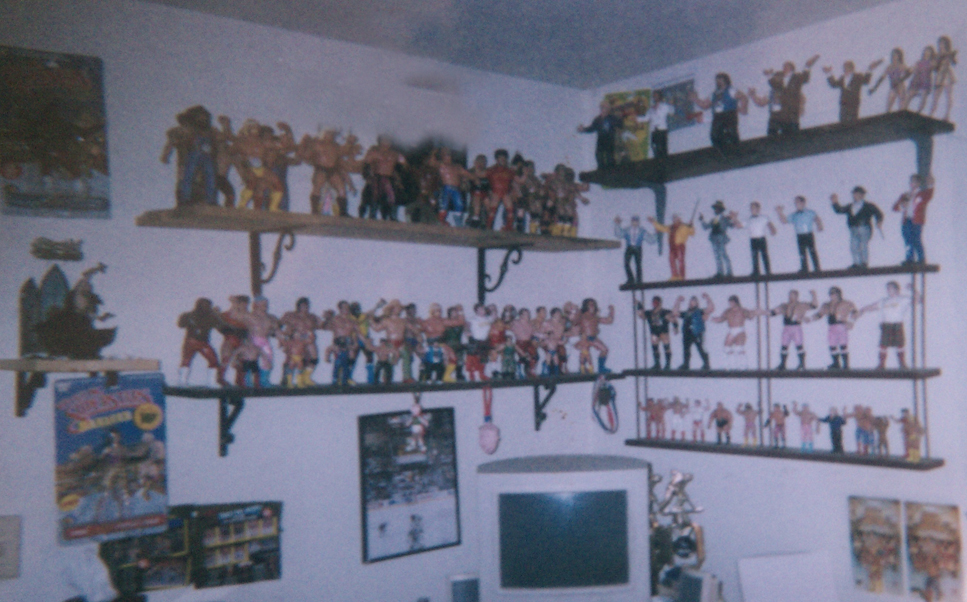 Galoob set, ToyBiz (not sure if I went for the whole set or not, but I think I may have + some variants), and random memorabilia: