Post by deskjet on Mar 19, 2010 19:14:24 GMT -5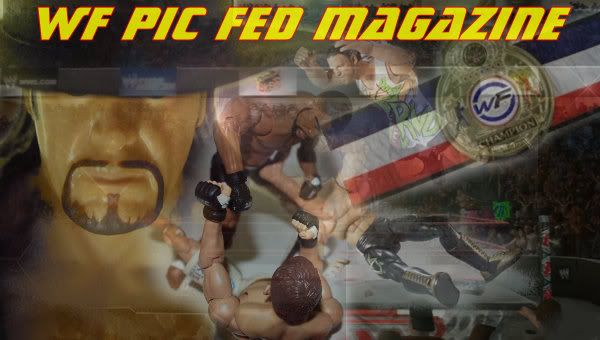 MATCH OF THE MONTH
It should come as no surprise that this months match of the month is from Colt. His head to head entry of Ron Killings Vs Orton was flawless. I myself was a member waiting for some body to use Mattel's and Colt stepped up and did it in a big way. Due to the scale of Mattel's they to present a challenge to film the skinny arms make it hard for some figures to support others in the most simple of poses, like a suplex for example. This match particular had everything. Build up, we watched as Colt hyped up Orton and truth with a house show brawl on the discussion board. Cameos from other stars, even setting up a potential future feud and if not. It did get Orton over as a cold callous prick who does not care for the well being of others. In ring action as well as hardcore action. For the second time, Colt gave us a tour of his new arena. Again, even introducing the viewers to some other wrestlers in the fed. Finally the action came back into the ring. A bloody and tired Orton, and a worn down Ron killings would continue to tear the house down in a match for the ages until Killings made one mistake leaving him self open for the RKO thus dashing his chances of getting into the 8 man tournament for the heavyweight title. The poses were spot on the lighting was excellent and the presentation was great. if you have not viewed this sure fire match of the year candidate, do so now! This is JDash signing off.
TOP TEN
10. Lance Hoyt (XEW)
Hoyt made a huge impact on XEW's first ever show, incapacitating fellow XEW star, AJ Styles.
09. Jake Roberts (NACW)
The NACW Heavyweight Champion Jake Roberts defeated his dark adversary The Undertaker at his own game - A casket match!
08. Brian Kendrick and Paul London (WXW)
This lightining quick pair beat Mark Jindrax and Maven on WXW Shockwave to claim Tag Team gold, earning them the #8 spot!
07. Chris Jericho (C2W)
Jericho defeated The iconic Shawn Michaels in an excellent Ironman Match at Head2Head to earn a future World Heavyweight Championship shot.
06. CM Punk and Samoa Joe (UWS)
These two put on what is probably my personal match of the year so far, and deservedly get a spot on this list for it!
05. Armando Estrada (WWR)
Armando Alejandero Estrada used his intellect to put together to literal giants in Sid and Morishima. Who knows what the trio will do.
04. Arn Anderson (CWA)
Anderson overcame a serious shoulder injury to claim the United States Championship at Head2Head, defeating former friend Tully Blanchard.
03. Edge (WWEF)
At WWEF's recent PPV, Salvation, Edge regained the World Heavyweight Championship, defeating three other men in an incredibly competitive match up!
02. Goldberg (WWEF)
Goldberg has been making waves in WWEF, destroying Evolution in both of his appearances. Who's Next!?
01. Christian and The Big Show (TWA)
Since Figamania 2009, Christian and The Big Show have been a dominant force in TWA. Can even The Undertaker stop this duo?!
BLAST FROM THE PAST
ROP & HLW - INVASION
www.freewebs.com/hlwropinvasioncgj
In what was considered by many to be some of the greatest times ever seen on the pic fed board, inVasion was posted at the peak of that popularity, and was arguably, was, and still is, one of the biggest shows ever produced. This was a combined effort between the hall of famer CGJ, and sure to be hall of famer Guru, and was the culmination of a long inter fed rivalry. It features the slick presentation from HLW, and the raw feel one can only feel when watching a ROP show. With months of hype, this show is definitely one of the best ever, and is as deserving as any when being chosen for the first ever blast from the past.

PIC FED MEMBER INTERVIEW
The following is an interview with one of pic feds up and coming stars, Shifty.
wwefan:
Hey Shifty, thank you for taking the time to do this interview.
Shifty: Thank you for the chance to be interviewed!
wwefan:
I just wanted to ask you a few questions regarding the current state of the board. How do you feel about the pic fed scene right now?
Shifty: I feel like the board is really a great place to be right now. You have consistent and good quality pic fedder's such as yourself, TWA and WWEF, as well as people like Tom, J-Dash, Elliot, N1SF all looking to start up what are sure to be some excellent shows, as well as the return of guys such as Colt and Mr. Ngggg
wwefan:
Now you never fail to leave a reply to ANY show. In your eyes (no pun intended) how is the pic fed board doing in terms of replies?
Shifty: The replies given out by people are usually quite good, and its always fun to see how people's views vary on certain feds angles or matchups. I think maybe when more people have feds running the amount of replies people get will increase.
wwefan:
As a man who refreshed the page and saw his name "in green", I know a few things about changes. If you could change one thing about the pic fed board, what would it be?
Shifty: I'd make more regular events such as Head2Head, maybe brand them like WWE did with the In Your House series.
wwefan:
As of late, a lot of legends have returned to pic fedding. Is there anyone else that you would like to see make a comeback?
Shifty: I'd love to see Mallett make a full time return. Or P00KY.
wwefan:
We have not seen a lot from you in terms of shows. But we are all waiting anxiously. Could you tell us what you have in the works for your fed?
Shifty: Gang Warfare, Next Gen Stars, Battle of the Manbeasts, and Mr Kennedy. Need I say more?!

wwefan:
As a pic fedder, what is your favorite aspect of pic fedding (filming, editing pics, commentary, etc.)?
Shifty: Honestly its seeing how the pictures and the commentary mold into one. Personally, I'm not a fan of just poses, but its amazing really how much better they become with a few words underneath.
wwefan:
As a new pic fedder, I looked up to KC, mallet, Mr. Nrrrrg, and others. Who do you idolize, and why?
Shifty: Well there's a few tbh. For starters, my friend Mitch, or WWEF. As someone who has supported him from his time doing shows for two guys on a proboards site, I'm so proud of how far he's come since then, and I've come to respect him as a friend and a pic fedder. As well, I look up to DJ for his attitude on here, he seems to be cool and collected, which is something I aim to be, and finally you! Honestly, C2W gave me inspiration for a lot of the stuff in my fed, so thank you!
wwefan:
I know you're not a fan of stepping on toes, but if there was an award for "pic fed jerk of the year", who would win?
Shifty: Well since I joined the board in around June of last year, I can't honestly say anybody has been that much of a jerk. We all seem to get a long pretty well, although as a collective, we were kinda harsh on Lay!
wwefan:
Last question. Where do you see yourself in 2 years, in terms of pic fedding?
Shifty: Hopefully I'll be on Season VII of TWR. But who knows!
wwefan:
Thank you so much for your time.
Shifty: Thank you for the interview! >_<